2018 Season Announcement Coming Soon!

---
THE KOFFEE KLATCH: A New Works Development Program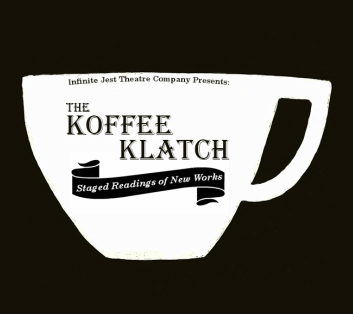 Our New Works Development program--
The Koffee Klatch
--offers a week-long rehearsal process for the playwright, director and actors to explore and refine an unproduced play before presenting it to an audience. The performances are
minimally staged
, with actors carrying scripts, and are a wonderful opportunity for the playwright to get a sense of the play's full potential in a workshop setting.
After each reading, join Infinite Jest company members, the playwrights, directors, and actors for a coffee social. We'll serve coffee and nibbles, give valuable feedback to the writers, and chat about theatre!
Tickets: Suggested Donation $5
to reserve your space,
email us.
Venue:
Meta Theater on Melrose, 7801 Melrose Avenue, Los Angeles, CA 90046
Entrance is located around the corner, off of Melrose on Ogden Drive
Parking:
There is ample street parking available.
Upcoming Date(s):
September 24, 2017 @7:00pm
Featuring Five Short Plays by Allie Costa:
Boxes Are Magic -
A negotiation on the benefits of moving between a cat and her human.
Dear Neighbor -
Thoughts on apartment living.
Failure to Communicate -
Inspired by a true story of customer (dis)service.
Sugar and Spice -
Sister and brother, Fiona and Felix, discover the secret to Nana's spice cake.
Party of Two -
Erica and Scott bond over current events and the state of their relationships.
---
---
---