Previously On Stage...

MAJOR BARBARA written by George Bernard Shaw, directed by Branda Lock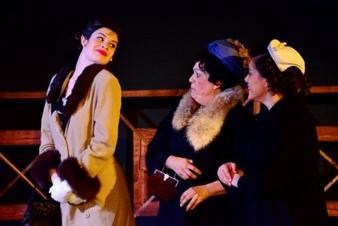 George Bernard Shaw is perhaps best known for PYGMALION, the play which inspired the beloved hit musical MY FAIR LADY. In MAJOR BARBARA, Shaw takes on family, politics, society, love and war with his ever timely, keen wit.
Andrew Undershaft, a wealthy armaments manufacturer loves money, despises poverty, and prefers to use the money he makes in the lucrative business of war to save the poor from evil. His estranged daughter Barbara, on the other hand, supports the poor by throwing her energies into her work as a soul saving Major in the Salvation Army & sees her "wicked" father as just another soul in need of saving. Wooed by professor-turned-preacher Adolphus Cusins, Barbara's hopeful ideals and happy romance are challenged in this clever, resonating battle for men's souls.
Check out the trailer for
MAJOR BARBARA
here
.
Review: "
Terrific performances spark Infinite Jest Theatre Company's revival of George Bernard
Shaw's Major Barbara under Branda Lock's assured direction." - Steven Stanley
,
StageSceneLA.com
Performance Dates:
June 11 - July 10, 2016
Venue:
Meta Theater on Melrose, Los Angeles
---
THE FROGS written by Aristophanes, adapted & directed by Collette Rutherford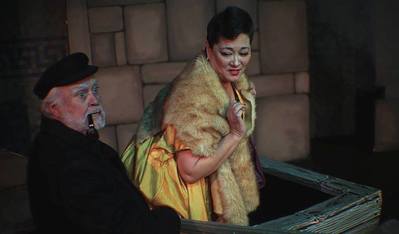 Dionysus, despairing at the state of Athenian theatre, travels to Hades to bring the playwright Euripides back from the dead dragging her trusty slave Xanthias along for the ride. Encountering Hercules, revelers of the cult of Iacchus, a taunting refrain of frogs, and of course the dead, the two arrive in Hades only to find that an argument is being waged between Aeschylus and Euripides over whom is the better playwright, worthy of the the title "Best in His Art." Hilarity ensues as Dionysus presides over a contest of wits and half-wits to crown the winner and ultimately determine who is up to the challenge of saving Athens and her theatre.
Review:
"...lots of slapstick humor, ranging from the famous "walk this way" physical gag to several modern references that kept the audience entertained and laughing. There are moments of true hilarity in the production, especially the tango seduction dance performed by (Hudson) Sanders and Markus Cummings. That scene alone is worth the price of admission!" -Shari Barrett,
Broadwayworld.com

Performance Dates:
November 7 - 22, 2015
Venue:
Meta Theater on Melrose, L.A.
---
FIVE WOMEN WEARING THE SAME DRESS written by Alan Ball, directed by Branda Lock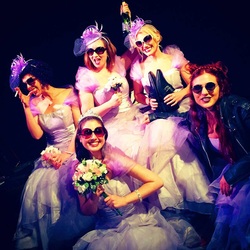 Enjoy the irreverent fun of this "fresh-as-a-daisy comedy," (New York Daily News) where, during an ostentatious wedding reception in Knoxville, Tennessee, five reluctant bridesmaids take refuge in an upstairs bedroom, to avoid the proceedings below. They are Frances, a sweet and sheltered fundamentalist; Mindy, the wise-cracking lesbian sister of the groom; the heartbroken and outrageous Georgeanne; Meredith, the bride's precocious lil' sister; and the jaded bad girl Trisha. As the afternoon wears on, these five very different women discover a bond that goes beyond the dress in this wickedly funny and "wonderfully entertaining play" (The New York Post).
Check out the trailer for
FIVE WOMEN WEARING THE SAME DRESS
here
.
Review:
"This production is not to be missed...If escape into a room on self-reflection and laughs peak interest, head on to We-Ho and support this progressive troupe!" -Tamika Adams,
sac.mediaPerformance Dates:
May 2 - 30, 2015
Venue:
Meta Theater on Melrose, Los Angeles
---
HAPPY NO YEAR written & directed by Jon Christie, co-produced with Dark Horse Theater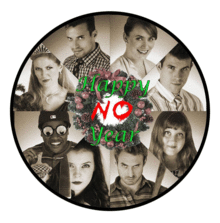 Every December 31st Eve throws a New Year's Extravaganza at her luxurious penthouse apartment and the other holidays gather together to ring in the New Year right, but this year no one seems to be in a festive mood. Valentine's Day is sick of being single, St. Patrick's is in poor spirits, and Christmas does not want to share good tidings. In fact, every holiday would prefer not to ring in the New Year. They might have gotten their wish when, during the countdown, Eve falls to the ground-dead! With Eve murdered and time frozen, the festivities are now a murder mystery soiree! Join us to deduce who is responsible for the ultimate New Year's resolution! Find out more about our partners at Dark Horse Theater
here
.
Performance Dates:
November 21 through December 20, 2014
Venue:
Missing Piece Theater, 2811 W. Magnolia Blvd., Burbank
---
---
ALMOST, MAINE written by John Cariani, directed by Collette Rutherford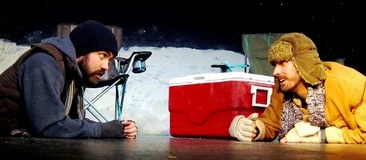 John Cariani's ALMOST, MAINE is a quirky take on love and many of the varying forms it can take. A mid-winter's night dream, set under the Aurora Borealis in the fictional town of Almost, Maine. A town so far north it is almost in Canada. Almost. As the northern lights hover in the star-filled sky, Almost's residents find themselves falling in and out of love in unexpected ways.

What Audiences are Saying:
"Didn't want it to end. The writing and acting was superb, highly entertaining..." -C. Germain
"Great performances that leave you laughing and thinking about some of your own experiences. Definitely a fun evening." - Y. Goldstein

Performance Dates: February 7 through March 2, 2014 Venue: Meta Theater on Melrose, Los Angeles

---